Strive: Swimming rankings is a companion app for any competitive swimmer in the UK. It automatically updates with their best times for each stroke achieved. It ranks by their position nationally (or locally) compared to ALL other UK competitive swimmers. It is based around their ASA number and uses times achieved in all licensed Galas.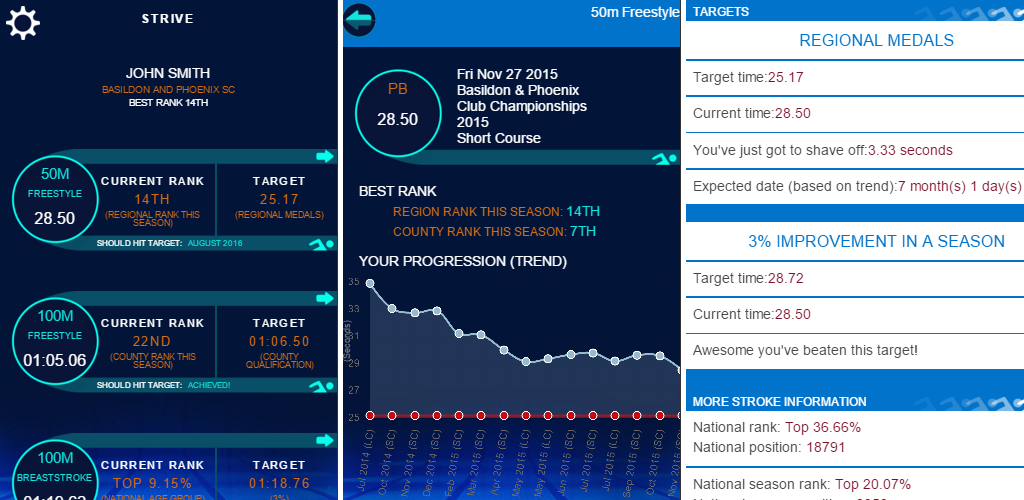 It aims to inspire each swimmer to strive for more. It focuses on providing each swimmer with information about their performance and allows them to register targets and then shows performance against those targets. Example targets are:
County Qualification
Regional qualification
National Qualification
Medalling positions in all of the above
3% improvement each season.
In addition, it analyses their performance trend of the progression in each stroke. By doing this it can give a prediction of the date they are likely to achieve particular targets.
Also each swimmer can look at other swimmers to see their performance curve. For example they can track their progress against their Olympic hero's progression curve.
All times are automatically updated from the various results services and club websites. No need to write down times with paper on your knees at Galas!
Strive has been designed and created by Mustard with help from parents of competitive swimmers who were frustrated by the lack of information given to swimmers as they progressed through their various strokes. Often their child would come home dejected without medals from Galas. They were unable to understand the massive improvements they were making. Strive aims to correct this. It aims to show swimmers, no matter their level that their hard work is paying off. They can see their improvement as a percentage against all other swimmers in the country. The app gives independent encouragement to them.